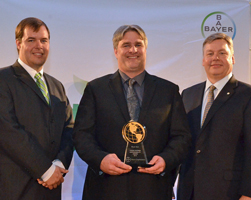 Bayer CropScience has honored Bryan Boll of Minnesota as the 2014 Bayer Young Farmer Sustainability Award winner.
"Sustainability means so many different things to people," said Boll, adding that he looked it up in the dictionary and found that "It basically means to continue on forever without interruption." That's what he works toward on his 5,000 acre diversified farming operation. "That includes profitability, environmental sensitivity, community involvement, community awareness … there's a lot of things that go into sustainability." [wpaudio url="http://zimmcomm.biz/bayer/bayer-aif14-boll.mp3″ text="Interview with Bryan Boll, Bayer 2014 sustainability award winner"]
Bryan is the fourth recipient of this award. Pictured with him here are 2013 winner Jeremy Jack of Mississippi on the left, and the CEO and president of Bayer CropScience LP, Jim Blome.
Jack, who also participated on a panel during the Bayer CropScience Ag Issues Forum on how today's farmer CEO are re-shaping modern agriculture, says he believes "sustainability has got to be the action plan" for every farmer in the future. [wpaudio url="http://zimmcomm.biz/bayer/bayer-aif14-jack.mp3″ text="Interview with Jeremy Jack, Bayer 2013 sustainability award winner"]