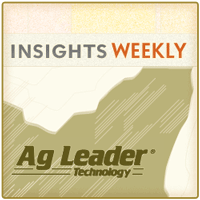 This February, Ag Leader released the latest firmware of 5.2. There are a lot of updates and improvements in the latest firmware and no matter your operation, there will be a feature you will enjoy! The first thing that you will notice about 5.2 is the home screen has changed. It has a green backdrop, but that is just the beginning! There are added tabs that make adjusting the operation more convenient. Growers can now change operators, configurations, fields, products, and rates, straight from the home screen. Also, you can access the grower/farm/field and configuration settings by selecting the wrench next to the tabs.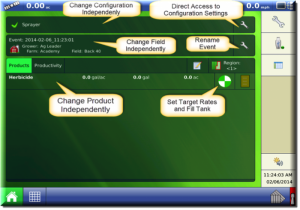 Also in the new 5.2 firmware is "Events". This mode is most convenient for custom applicators that do not want to log data to a specific field. Event mode allows data logging without being tied to a specific grower, farm, or field. This mode will allow operators to load the run screen with fewer button presses.
Another new optional feature that was added is headlands. Growers can use this to make AutoSwath work in different portions of the field. This option can help operators keep their field mapped more accurately and cut back on overlap.
Another new feature is managing guidance patterns. In the new 5.2 firmware growers have the ability to group guidance patterns together. This feature allows you to move from adaptive curve, identical curve, straight path, or pivot guidance lines without having to load the new guidance line into the display. This function will be most convenient for growers that use multiple lines in one field.
Ag Leader recommends upgrading to 5.2 before spring, as well as making a backup of the display before the season starts. We wish you a safe and successful planting season and enjoy the 5.2 firmware!
Become a fan of Ag Leader on Facebook today, and get the latest precision ag videos on the YouTube channel. For more information about Ag Leader products and services, or to visit the blog site, go to www.agleader.com.