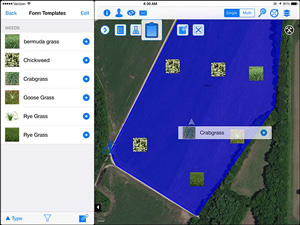 Mobile precision technology continues to evolve. iCropTrak just announced the release of Rapid Scouting Enhancements in Version 4.1 of their award-winning iOS Mobile Farm Management app iCropTrak. This comprehensive update for farmers and scouting professionals offers Rapid Observation and Action Item "one-tap" data entry aimed at easier, faster and more efficient use of your time in the field. The image is an example of Rapid Entry Observations.

In addition to Rapid Scouting enhancements like Rapid Observation and Action Items, the new iCropTrak includes a series of augmented map functions to make field understanding fast and easy.
Map Annotations to provide additional map reference data.
Work Order Status Annotations to provide where and what quickly.
Follow Me Upgrade to keep you on the map at any speed.
Map Sketch to allow you to draw on the map and save results for reports.
Recent Forms puts field history in chronological order.
Version 4.1 includes the first mobile parts of the upcoming MyJohnDeere.com integration: On-demand data downloading. On-Demand let's you download only the data you need for the time you need it, then remove it from your iPad when done to have space for other efforts. At multiple gigabytes per field for planting, as-applied, and harvest data, On-Demand provides users control over their data and provides the first peek at the new user definable statistical legends that colorize the data on the fly based on its attributes.
Aaron Hutchinson, Cogent3D President shared the company's excitement regarding this release stating: "The One Tap Observation capability to mark weeds, pests, and diseases is a labor break-thru in a market where every click is money. "