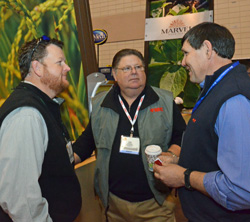 Don Johnson is FMC's Tech Service Sales Manager for the Southern Region. Chuck met up with him during the Mid-South Farm & Gin Show in Memphis last week and talked about what FMC has available for rice farmers. Don also reminded attendees as they walked through their booth that FMC has a wide product portfolio that includes something for all crops.
Obey was launched in 2013 and has dual modes of action. Obey provides effective weed management for Southern rice growers fighting barnyardgrass and hemp sesbania. It also offers the flexibility to be used in a sequential (split) application program with Command® 3ME herbicide.
"Our universities have been supporting FMC the last three or four years trying to get that window expanded in order to manage resistant barnyardgrass in rice fields and now we are happy to announce this year that we finally got that expanded for the growers."
As growers know barnyardgrass is the number one yield robber in rice fields. Fighting resistance has been an uphill problem for years, but with the use of these two FMC products growers have a solution.
"This show is more than just a cotton show. It is a gin show as well. It has been expanded to cover all crops. FMC also is diversified in the crops we cover whether it's soybeans, corn, rice or cotton. We have products that cover each crop."
You can listen to my interview with Don here: [wpaudio url="http://zimmcomm.biz/farm-gin-show/gin-show-14-johnson.mp3″ text="Interview with Don Johnson"]
2014 Mid-South Farm & Gin Show Photo Album