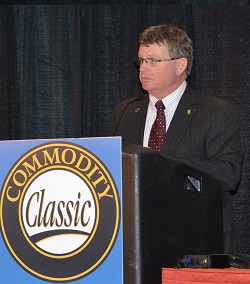 Members of the National Corn Growers Association are at Commodity Classic in full force this year, as part the more than 7,000+ corn, wheat, soybean and sorghum growers who have come to San Antonio. President of NCGA, Martin Barbre, a farmer from Illinois, outlined some of his group's priorities in this coming year, including their work with a couple of partnerships, the Coalition for Safe Affordable Food and the Soil Health Partnership.
"The goal of the [Coalition for Safe Affordable Food] is to seek a federal solution that would establish standards for the safety and labeling of food and beverage and products made with biotech ingredients," pointing out that GMO issues have been hot in the last few years, and a hodge podge of state regulations would only cloud the issue for producers and consumers. "If we get a myriad, a patchwork of state laws, how would I as a corn grower in Illinois if I'm shipping corn out to Indiana or down the Mississippi certify [my crop]."
The Soil Health Partnership has the support of Monsanto and the Walton Family Foundation and relies on a science advisory council made up of government and university experts as well as environmental groups. "These are just examples of many of the coalitions we've been able to work on."
Another big topic for the corn growers is the Renewable Fuels Standard (RFS), particularly what the Environmental Protection Agency (EPA) is proposing to reduce the amount of corn-based ethanol to be mixed into the Nation's fuel supply. Barbre said he's proud of the outpouring of support his NCGA members have given in the form of thousands of calls and letters to the EPA and White House to reverse what they see as bad proposal.
"We've done our part so far. It's an uphill battle, but we'll keep our pressure on the Administration," he said.
The new Farm Bill was welcomed by the NCGA, with Barbre calling it a law that makes sense, focusing help for growers when they need it, helping conservation efforts, saving taxpayers' dollars and feeding the hungry.
Listen to more of Barbre's remarks here: [wpaudio url="http://zimmcomm.biz/ncga/classic14-ncga-presser.mp3″ text="NCGA Press Conference with Martin Barbre"]
2014 Commodity Classic Photos