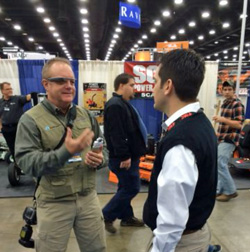 Tim Heins heads up the product management team for Raven and Chuck caught up with him at the trade show during the National Farm Machinery Show.
"At the ASABE Award Show, in conjunction with the farm show, we won four AE50 Awards. We won them for SmarTrax™ MD, OmniRow® Multi-Hybrid Planter Control System and our Viper 4 Field Computer."
As an independent precision ag provider, Raven was the only company that won that many awards. Tim shared how exciting it is to be winning awards along side big names in the farm equipment industry.
Raven's OmniRow® Multi-Hybrid Planter technology also was awarded the FinOvation Award presented by Farm Industry News for a collaboration with South Dakota State University and Pioneer Seeds.
"We have been doing variable rate technology for years now and when you talk about that it's hard for producers to really understand variable rate. What do I need to do? How and when do I do it? When you talk about changing hybrids it's something that is more intuitive and they understand their fields. To growers and producers, multi-hybrid more than variable rate, they get."
You can listen to the interview with Tim here: [wpaudio url="http://zimmcomm.biz/nfms/nfms-14-raven-heins.mp3″ text="Interview with Tim Heins"]