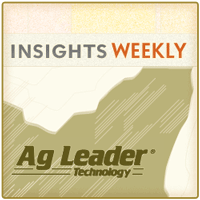 Growers in many states have spent the winter months in drought conditions, and there's non way to tell what Mother Nature has in store for the spring planting season. If we get rains like 2013, what if there was a way to improve your changes for a better harvest despite too much soil moisture? Well, there is a way to do just that: Ag Leader's new Hydraulic Down Force System.
Ag Leader's Brett Buehler explains that one of the big issues growers face during planting is that the seed is planted at the proper depth. When the seed is not optimally planted, it can negatively impact yield. While there are technologies on the market to help address this, Buehler said that many of them have limitations that the Hydraulic Down Force System overcomes.
[wpaudio url="http://precision.agwired.com/wp-content/uploads/sites/3/2014/02/BuehlerDownForceAudio.mp3″ text="Listen to Buehler explain"]
The technology, says Buehler, is excellent for the grower who has varying soil types his field.
Become a fan of Ag Leader on Facebook today, and get the latest precision ag videos on the YouTube channel. For more information about Ag Leader products and services, or to visit the blog site, go to www.agleader.com.