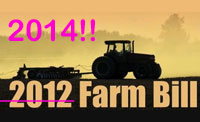 The U.S. Senate today voted 68-32 to approve the Agricultural Act of 2014 – what was supposed to be the 2012 Farm Bill.
"This is not your father's Farm Bill. It's a new direction for American agriculture policy," said Sen. Debbie Stabenow (D-MI), Chairwoman of the Senate Committee on Agriculture, who notes that the legislation includes "one of the largest investments in land and water conservation we've made in many years."

The Agricultural Act of 2014 consolidates 23 existing conservation programs into 13 programs while strengthening tools to protect and conserve land, water and wildlife. By streamlining programs, the farm bill provides added flexibility and ensures conservation programs are working for producers in the most effective and efficient way – an approach supported by nearly 650 conservation organizations from all 50 states. These reforms increase resources for top priorities while reducing the deficit by $6 billion.
The president is expected to sign the bill into law as soon as possible.