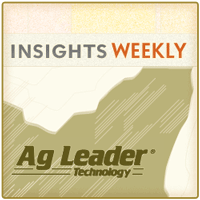 At this week's 2014 Iowa Power Farming Show, ZimmComm's Joanna Schroeder caught up with Ag Leader's Kaleb Lindquist, member of the software sales team, about the new AgFiniti cloud-based platform which allows growers to send and receive data files wirelessly from the cab. Guidance lines, prescriptions, as-applied maps and other data files can be sent and received wirelessly and backed up on a secure AgFiniti account. Files also can be accessed from a grower's smartphone or tablet in the field or at the office and shared with trusted advisors such as dealers, coops or farm managers.
Learn more about this new product offering from Ag Leader in Joanna's full interview with Kaleb.
[wpaudio url="http://precision.agwired.com/wp-content/uploads/sites/3/2014/01/iowapower-lindquist-14.mp3″ text="Listen to Lindquist explain"]
Become a fan of Ag Leader on Facebook today, and get the latest precision ag videos on the YouTube channel. For more information about Ag Leader products and services, or to visit the blog site, go to www.agleader.com.
Click here to view the 2014 Iowa Power Farming Show photo album.