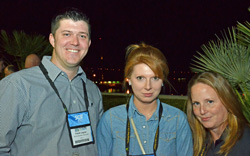 At the recent National Biodiesel Conference a number of commodity groups were represented. Frank Legner, Legner Farms is a member of the Illinois Soybean Association and attended the conference to get an update on biodiesel for grower members back in Illinois. He talks about how he uses precision agriculture and Ag Leader software technology on his farm where they grow 50/50 soybeans and corn.
"We use SMS Advanced from Ag Leader because it gives us a lot of ability to write our own recommendation for fertilizer; we use SMS Mobile to go out into our fields and take our own samples, that way we can control the sampling sites and take care of the ground the best it can be. We use SMS Mobile for crop scouting – when I write recommendations myself, I can save the money on the acres that we do spread and that's how I can justify the upgrade fees every year to keep my software new. And the analysis we run on soil types with hybrids, with population, helps us drive better decisions so we can know that we are putting the right product on the right acre due to past performance. What's great it doesn't matter what color."
Legner Farms has truly adopted the use of technology to create efficiency and increase profitability. He goes on to explain how they have taken advantage of different precision ag company's innovations and looks forward to seeing what's next.
You can listen to Chuck's complete interview with Frank here: [wpaudio url="http://zimmcomm.biz/nbb/nbb-14-frank-legner.mp3″ text="Interview with Frank Legner"]