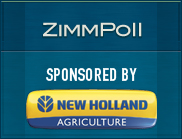 Our latest ZimmPoll asked the question, "Would you wear Google Glass?"
Some are still unsure what Google Glass is and even more have no desire to wear them at all. But those techies out there look willing to jump on the bandwagon with Chuck and see how these computers you wear on your face could make work easier or simply life more entertaining. Chuck brought his ZimmGlass with him to AFBF earlier this week and captured a few photos and video interviews. But admits there is a learning curve to master them.
Our poll results:
Yes – Depending on price – 38%
Yes – No matter what – 8%
No – 42%
What are they? – 12%
Our new ZimmPoll is now live and asks the question, "How did the 'Polar Vortex' affect you??"
Last week the country faced record lows. Some trudged through heavy snow and blizzard like conditions and others battled ice and freezing rain. Chuck and Cindy even suffered in Florida with temps in the teens. Windchill conditions closed schools and cancelled events. But farmers and ranchers nationwide still had work to do. Even more of a reason to thank a farmer! How did last week's extreme cold affect you?