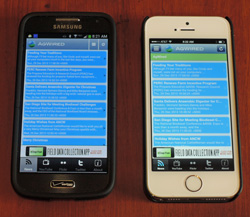 In this new year there is no doubt we'll see many new mobile precision applications and the device you choose to work with it will be important. I thought I'd share some thoughts on two that I'm currently using.
The photo is my Samsung Galaxy S4 Mini (left) and Apple iPhone 5S, both running the AgWired App I hope you have on your phone. I'm Verizon on the S4 Mini and AT&T on the iPhone. I've got hotspot plans for both in the hopes that I will almost always be able to connect to the internet via my computer or tablet (iPad Air). I also wanted to have the opportunity to learn both mobile platforms. The Mini is running Android 4.2.2 known as Jelly Bean and the iPhone is running iOS 7.0.4.
I've been carrying a Samsung Galaxy Note II. That is for sale now. Why? Because a phablet doesn't fit my one-handed phone lifestyle. I want to be able to text with one hand for example and the Note is just too big. I definitely didn't need or use the stylus. When I first got it I thought I'd like the extra screen space but quickly found out that wasn't the case.
Of the two phones that are the subject of this post, the iPhone is my favorite. Two of the biggest reasons are that the iPhone camera takes better photos and the apps are more intuitive and user friendly. That's my experience and both are important to me. I take a lot of phone photos, many of which appear on AgWired and my social media accounts. Another reason is that the 5S processor (A7) is fast, way faster than my iPhone 5 which Cindy is now carrying. Everything runs faster. When I turn it on it connects to the network faster, apps like Mail run faster. And faster is better in today's world.
I think that outside of these reasons I would be happy with either device. At this point the Google Play store has a version of almost all the iTunes Store apps I use the most. I've been able to set both devices up to be nearly identical from this standpoint. This allows me to use an app I'm familiar with on both for times when I only have one or the other on me or am only in an area with service for one or the other.

I think we're getting to a point when it's becoming difficult to make the decision of which platform to go with. Another reason I'm an iPhone fan is because it works so seamlessly with my Macbook Pro and iPad. But I've been able to keep things like contacts, calendar, notes, etc. synced to my S4 Mini as well.
If you've got any questions about either device or mobile platform please feel free to ask. I'm not a certified developer but have worked with a few who are. In fact, we're in the process of creating a new version of the AgWired App which we hope to launch in early 2014. If I can't answer a question I'm sure there are many other agnerds out there who can.