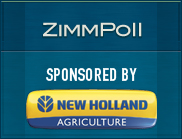 Our latest ZimmPoll asked the question, "Do you plan to make any year-end equipment purchases?"
Our poll results:
· No. Not this year: 35%
· Yes – Planting equipment: 18%
· Yes – Sprayers: 12%
· Yes – GPS/guidance: 12%
· Yes – Hay equipment: 6%
· Yes – Harvest equipment: 6%
· Yes – Tillage: 6%
· Yes – Other: 6%
Looks like most of the farmers out there are either up-to-date on equipment or satisfied with what they have. Are things like Farm Bill uncertainty holding you back?
Our new ZimmPoll is now live and asks the question, "Which winter farm shows/events are you planning to attend?" Are you planning to get out of the house to browse new products and services this fall and winter or wait and see what spring brings? Let us know!