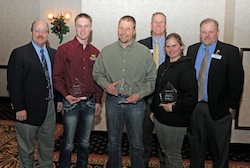 Three up-and-coming agricultural pilots were awarded scholarships sponsored by BASF and the National Agricultural Aviation Association (NAAA) to help them turn their dreams of becoming professional agricultural pilots into reality.
Kole Pederson of Crookston, MN; Richard Conrad of Kiel, WI and Heidi Stoeppler of Bakersfield, CA were awarded the NAAA/BASF Agricultural Aviation Scholarships of $5,000, $2,500 and $1,000 during the 47th Annual NAAA Convention and Exposition in Reno, NV. To qualify for the Agricultural Aviation Scholarship, applicants have to be sponsored by an NAAA member operator.
The scholarships are part of a longstanding partnership between BASF and NAAA to support the futures of students pursuing careers in the aerial application industry. Each year, two budding pilot trainees are awarded a scholarship; however, this year, three deserving applicants were selected.
"These passionate aviation students exemplify what it means to work hard and follow your dreams," said Gary Fellows, Ph.D., Technical Market Manager, BASF, and member of the National Agricultural Aviation Research & Education Foundation's Professional Aerial Applicators' Support System (NAAREF PAASS) Program Development Committee. "The scholarships offer the students an opportunity to pursue their goals and continue to move towards becoming invaluable members of the aerial application industry."
Pederson attends University of Minnesota, pursuing a degree in aviation with an emphasis in agricultural aviation. He holds a private pilot certificate and tailwheel endorsement from the University of North Dakota Aerospace Foundation. Pederson was sponsored by Tom Rongen of AgriMAX LLC in Fisher, MN.
Conrad attends Fox Valley Technical College's Aircraft Avionics program. He holds a private pilot certificate and tailwheel endorsement, as well as a Wisconsin Department of Agriculture, Trade and Consumer Protection (DATCAP) Commercial Applicator's License. Dean Heimermann of Countryside Aviation LLC in Chilton, WI, sponsored him.
Stoeppler is training with the Bakersfield Flying Club as she builds time toward her private pilot certificate. She is sponsored by Jon Slikker of Vince Dusters in Bakersfield, CA.