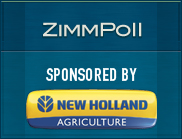 Our latest ZimmPoll asked the question, "What are you thankful for?"
Our poll results:
· All of the above – 37%
· Friends and family – 15%
· Good health – 12%
· Freedom – 8%
· Affordable food – 8%
· Rewarding work – 7%
· Our great nation – 7%
· Other – 7%
There are so many things for us to be thankful for that it's no wonder an "All of the above" would be the top choice. We hope your families had a wonderful holiday and are now preparing for the Christmas season with full hearts as well!
Our new ZimmPoll is now live and asks the question, "Do you plan to make any year-end equipment purchases?" Is your farm expanding? Maybe it's out with the old, in with the new? Maybe for tax purposes? Let us know!