Advanced plant health and grower engagement were two topics that BASF Crop Protection representatives discussed with reporters at the recent National Association of Farm Broadcasting Trade Talk.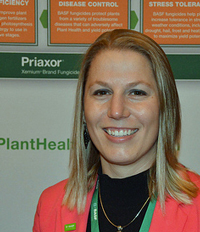 Dr. Brianne Reeves is a member of the BASF Plant Health Technical Market team and in that role supports field research efforts and manages technical training for Priaxor® fungicide. Brianne is a DPM – Doctor of Plant Medicine – so she knows quite a bit about plant health and how Xemium® fungicide, the active ingredient in Priaxor fungicide, brings advanced plant health benefits to the table.
"The advanced plant health benefits are advanced growth efficiency, advanced disease control and advanced stress tolerance," she says, noting that BASF has done hundreds of research projects to show those benefits, such as the "root and shoot" advantages. "Better roots, better shoots, more leaves, greener leaves, more photosynthesis, better yields." [wpaudio url="http://zimmcomm.biz/nafb/nafb13-basf-reeves.mp3″ text="Interview with Dr. Brianne Reeves, BASF"]
In addition to advancements in plant health, BASF has made a commitment to advancing its partnership with farmers in the field by introducing Innovation Specialists like Kaleb Hellwig to engage with growers and help them manage their operations more effectively.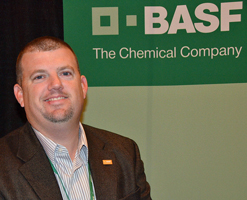 "It's not about selling them a product, I make recommendations for competitive products, I make recommendations in the fertility area," Kaleb says. "So that when they make an application of Priaxor in soybeans or Headline AMP in corn or Twinline in wheat that they get the very highest return."
Kaleb says BASF has gotten such positive feedback with Innovation Specialists in the field that they will be expanding the program next year. [wpaudio url="http://zimmcomm.biz/nafb/nafb13-basf-kaleb.mp3″ text="Interview with Kaleb Hellwig, BASF"]
2013 NAFB Convention Photo Album