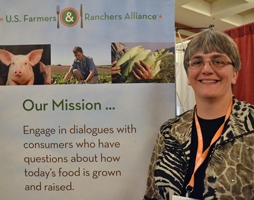 Consumers want to see a face of where their food comes from and that is one thing the U.S. Farmers & Ranchers Alliance (USFRA) has tried to provide. USFRA was on-hand during NAFB's Trade Talk and Cindy spoke with them about their desire to continually start the conversations about food and farming across the country.
Lisa Lunz, USFRA Board Member, has been involved with all aspects of the organization's endeavors. She is a corn and soybean producer from Northeast Nebraska. Her involvement on the Nebraska Soybean board is what lead her to USFRA. In the short time USFRA has been in existence, Lisa is truly proud of the dialogue they have been able to start and the wide-spread conversations people are having about the food they eat and produce. She describes USFRA as a movement not an organization, because change doesn't happen over night. The success of the Food Dialogues is a testament to the need for these conversations to take place globally.
"We need to acknowledge consumers questions, answer those questions and give them an opportunity to understand what we do."
The latest USFRA outreach activity was the release of trailer and website for the new film Farmland. The documentary is a work in progress. Director James Moll, has interviewed, conducted research and is now almost ready to announce the families featured in the film. This winter the film will be finalized and sent to film festivals. The coveted national debut will come in March 2014. The film is supported by USFRA, but not a USFRA production.
"Part of the reason why we thought this project was so important was because there are a lot of documentaries out there about a lot of different subjects, but there is not one about the next generation of farming. I think they have found a great director, that is a great listener and wanted to learn more too. As he went out and interviewed these famers and ranchers he has had an opportunity to learn also. He is an award winning director and so it has given us a great opportunity to create something that hopefully we can use as an educational tool and something that will spark conversations about food."
Listen to Cindy's complete interview with Lisa here: [wpaudio url="http://zimmcomm.biz/nafb/nafb13-usfra-lunz.mp3″ text="Interview with Lisa Lunz, USFRA Board Member"]
2013 NAFB Convention Photo Album