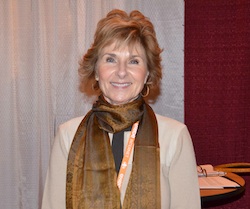 USDA Rural Development was on hand during last week's NAFB Trade Talk to share their work with rural communities across the United States and promote the use of #MyFarmBill.
I spoke with Colleen Callahan, Illinois State Director for Rural Development, during the event and she was eager to express their commitment to rural communities and their passion for brining value to agricultural businesses who drive the growth of those rural communities through their financial and loan programs.
"When it comes to the breadth of what USDA does, we at Rural Development feel that we are the jewel in the crown of USDA because it's not just about any one program or any one business. It's about entire communities and regions."
During the Secretary of Agriculture's press conference at NAFB, Vilsack gave credit to Colleen for her committed work with the National Drought Resiliency partnership. USDA, along with numerous other government organizations have teamed up in effort to become better prepared to mitigate the consequences of future droughts. You can find the complete audio from the press conference here.
You can't talk with anyone from USDA without bringing up the Farm Bill. Colleen talked about the power of strength in numbers and their promotion of #MyFarmBill. The use of the hashtag will allow us all to express our opinions and share our agriculture story to the decision makers. As one it's hard to make a stand, but together we can share our words, photos and video using #MyFarmBill to be heard. Colleen also reminds us that this is more than simply a farm bill, it is a food bill. It is about producing food for exports and putting wholesome food on the tables in homes across the country.
"In agriculture during this time of year we use a lot of technology. We use that GPS, we know where we are in the field, what the yield is in that very spot. We use the no-steer guidance to get use where we are at that point in the field and so using that technology helps us with social media. The #MyFarmBill really completes that circle. You're at the end of the field, you're unloading, it goes from the augur to the grain cart and you are sitting there watching. Take advantage of the time you have to communicate the business you are in."
Listen to my complete interview with Colleen here: [wpaudio url="http://zimmcomm.biz/nafb/nafb-13-usda-callahan.mp3″ text="Interview with Colleen Callahan"]
Checkout photos from NAFB Convention: 2013 NAFB Convention Photo Album