Larry Quinn wasn't quite ready to walk away from the agriculture communications industry when he retired as Director of Communications at USDA. With his strong connection to the National Association of Farm Broadcasting, Larry saw a need to share the story and legacy of farm broadcasters across the country.
"I looked around and among the membership of NAFB I found so many interesting stories about the people and the profession. So, I proposed to NAFB of writing a column called "Airing on the Side of Agriculture" to try and get people to think about their colleagues and what they do on the side of agriculture."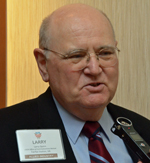 Larry admitted the perk of retirement was the opportunity to pick and choose what you wanted to do. He found out that he truly enjoyed writing way more than he had originally thought.
"Email and the telephone are the greatest tools for me. What I don't find out from broadcasters that way, I look them up on the internet. Look at their website and find out all kinds of information about them that they failed to tell me. When I write about someone I try and make it a full compliment of what they do and tell that story that sometimes might be linked to a current event."
As if he wasn't busy enough with this new venture, Larry is also active with the Broadcast Committee and the History and Heritage Committee of the National Press Club.
Listen to the complete interview with Larry here: [wpaudio url="http://zimmcomm.biz/nafb/nafb-13-larry-quinn.mp3″ text="Interview with Larry Quinn"]
Checkout photos from NAFB Convention: 2013 NAFB Convention Photo Album