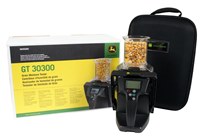 To help producers more accurately monitor the condition of their grain during harvest and in storage, John Deere introduces the GT-30300 Grain Moisture Tester. This new hand-held device provides direct readout of moisture and test weight for 20 different grains in seconds, without pre-weighing the samples, at the touch of a button.
According to Barry Deiters, product manager with John Deere Merchandise, the new GT-30300 Grain Moisture Tester is the most accurate and advanced hand-held tester available. "The tester measures the moisture of harvested or stored grain from 5 percent to 45 percent with repeatable accuracy to plus or minus 0.2 percent and test weights with repeatable accuracy of 0.5 lb. per bushel, without having to pre-weigh the samples."
The tester also measures the temperature of stored grains from 40 to 120 degrees F with repeatable accuracy to within 1.0 degree. Other features include a backlit LCD display for easy viewing of data, automatic temperature compensation and USB port and cord to make software updates and downloading data easy and convenient. Each unit comes with an attached swiper for grain leveling and heavy-duty carrying case.