One area where there seemed to be general agreement in the first meeting of the farm bill conference committee last week was the need for a strong conservation program – and most committee members who mentioned it during last week's meeting are in favor of tying conservation compliance to crop insurance, which is part of the Senate bill.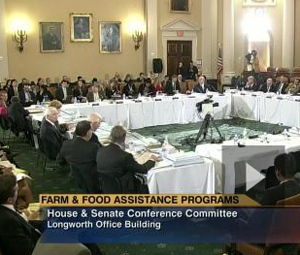 "As we make this shift to risk management policies, it's very important that farmers and ranchers continue to do the things that make them the best stewards of our land and water resources," said Senate Agriculture Committee chair Debbie Stabenow (D-MI). "By reconnecting conservation compliance to our now-strengthened crop insurance program, we protect the future of agriculture for our children and grandchildren."
Rep. Steve King (R-IA) agreed. "With direct payments eliminated, it's important that we provide incentives for farmers to continue to be good stewards of the land," he said.
Sen. Tom Harkin (D-IA) noted that the vast majority of producers are already doing what is required. "Are we going to say to the few that might be bad actors that you can still get your insurance and not do what the vast majority are doing on their own?"
Only Senator John Hoeven (R-ND) spoke against linking conservation and crop insurance. "In the House version you do not tie the conservation compliance to crop insurance," he said. "I think that is the right approach."
The committee met for the first time on October 30. No word yet on when it will meet again but some members have said they are hoping to get the bill out of committee by Thanksgiving.