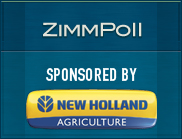 Our latest ZimmPoll asked the question, "Does farm size matter?" On Food Day, Oct. 24, 2013, the U.S. Farmers & Ranchers Alliance hosted a panel, "Farm Size: Does It Really Matter?" at the State Room in Boston to discuss the differences and similarities between large and small farms, and how farm size and ownership affect consumers' food-purchasing decisions. You can watch the full video here to see if the panelists agreed with what most of you thought: size doesn't matter as long as it's sustainable.
Our poll results:
· No, as long as sustainable – 38%
· No, all are needed – 35%
· Yes, it's big vs. small – 15%
· Yes, bigger needed to feed growing population – 10%
· Other – 3%
Our new ZimmPoll is now live and asks the question, "What's the biggest threat to getting the farm bill done?" Is nutrition the hang-up, or is it agriculture? Let us know!