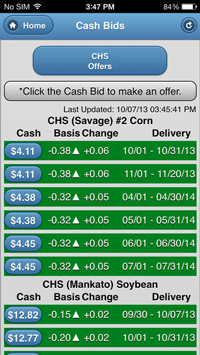 CHS, Inc. just announced a new app for mobile grain trading agnerds. This sounds pretty handy. So here's another app tool for your device and speaking of devices, there are lots more new ones to choose from like the new iPads announced by Apple this week!

The free app allows easy access to CHS grain terminals, soybean processing plants and select service center bids. It enables producers to make, monitor and manage offers to sell corn, soybeans and wheat electronically. The app also provides market information with the ability to create and manage futures-only, basis-only and cash offers.
Offers through the CHS grain trading mobile app are monitored during futures market hours from 8:30 a.m. to 1:15 p.m. and from 7 p.m. to 7:45 a.m. Utilizing the CME Group electronic markets, the app also facilitates an automatic connection between grower-approved offers and CHS hedge orders. With patented e-Pit® services provided by Farmstech, the app can place a hedge order, receive confirmation of the fill, execute the cash purchase, and notify both buyer and seller in seconds.
The CHS Grain Trading mobile app is compatible with both Android™ and iPhone® devices. Download the free mobile app at the App Store™ or Google Play store. Follow the registration process to link to your CHS account and create a grain trading mobile account. Enhanced login and security features ensure information privacy.