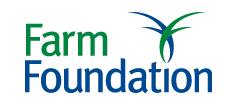 The farm bill is coming closer to becoming reality, as Congress is about to start the legislation's Conference Committee. Our friends at Farm Foundation will take a look at how work is progressing on the bill and how the outcome may effect the nation's food and agriculture system during its next free forum, Wednesday, Nov. 6 from 9 a.m. to 11 a.m. EST at the National Press Club, in Washington, D.C.
The Forum panel: Moderating the panel will be former Texas Congressman Charlie Stenholm. Five panelists will present perspectives on the legislation:
Joe Outlaw of Texas A&M University, will give an overview of farm bill policies.
Michael Dimock of Roots of Change, will address the impact of legislation on food systems and consumers.
Helen Jensen, an agricultural economist at Iowa State University, will examine issues surrounding the nutrition title of the legislation.
Jon Scholl of the University of Illinois and former president of American Farmland Trust, will discuss conservation programs.
Kip Tom of Tom Farms, will provide a producer perspective.
To participate in this free forum, sign up here.