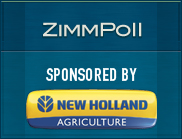 Our latest ZimmPoll asked the question, "What is most important to you when buying food?" Given the economy, it's only fitting that price won out in our poll, but also tied with whatever you're hungry for. Guess it just depends on your mood!
Our poll results:
· Price – 29%
· Whatever I'm hungry for – 29%
· Organic – 14%
· Brand – 12%
· Other – 9%
· Special diet – 7%
Our new ZimmPoll is now live and asks the question, "Does farm size matter?" which was also the topic of the USFRA Food Dialogues in Boston this week. Increasingly, consumers are hearing they should be concerned about the size of farms, and may be making purchasing decisions without understanding how food is grown and raised on farms of any size. What do you think? Let us know!