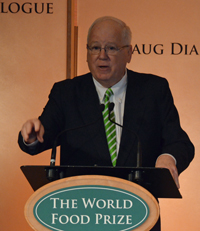 World Food Prize Foundation president Ambassador Kenneth M. Quinn says this year's event was bigger and better than ever.
"We had more people registered this year for the symposium," he said. "After we got beyond 1200 I almost stopped counting because I wasn't sure where we were going to put folks!"
In addition, there were 350 students and teachers at the event and over 700 attended the Iowa Hunger Summit earlier in the week, a new record. Quinn says the World Food Prize has grown so much from what Dr. Norman Borlaug began in 1987. "We've been able to get to where people now say it's the Nobel Prize for food and agriculture, and some people say it's the premier conference in the world on global agriculture and one of the most unique programs to inspire young people," he said, adding that the Prize was sponsored by General Foods in the very beginning and taken over by Iowa businessman and philanthropist, John Ruan.
In this interview, Quinn talks about this year's event, the history, honoring biotechnology, how the WFP winners are chosen, and a new statue of Dr. Borlaug being installed in the U.S. Capitol next year. [wpaudio url="http://zimmcomm.biz/world-food/wfp-13-quinn.mp3″ text="Interview with WFP President Kenneth Quinn"]
2013 World Food Prize photos