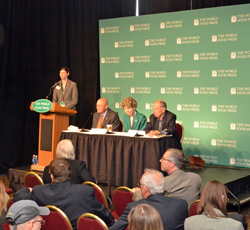 Three biotechnology scientists were honored at the World Food Prize in a ceremony in Des Moines last week, but before that, they met the press and answered some tough questions about the technology they have dedicated their lives to developing.
The 2013 World Food Prize Laureates are Monsanto Chief Technology Officer Dr. Robert Fraley, Marc Van Montagu of the Institute of Plant Biotechnology Outreach at Ghent University in Belgium, and Mary-Dell Chilton of Syngenta Biotechnology. All have achieved breakthrough achievements in founding, developing, and applying modern agricultural biotechnology.
The first question asked by a reporter was basically, why is Monsanto such a target for critics of biotechnology? "Sometimes that's frustrating," said Fraley. "I always assume that means we've been really successful and people see us as a leader and that's part of the responsibility that goes with it."
Chilton with Syngenta said she didn't really understand why Monsanto is the main target of critics but she believes the industry as a whole needs to "have good communications with the public about the safety" of the technology.
Van Montagu believes that the critics have singled out Monsanto as the "villain" because it works better than talking about the industry as a whole. "If you start gossiping about a person, people always start believing gossip – humanity is like that," he said.
Some interesting stuff here: [wpaudio url="http://zimmcomm.biz/world-food/wfp-13-laureates.MP3″ text="World Food Prize Laureates press conference"]
2013 World Food Prize photos