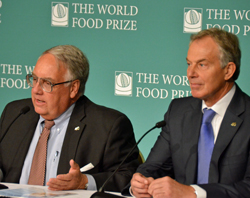 Former UK Prime Minister Tony Blair and philanthropist/farmer Howard G. Buffett were the stars at the World Food Prize Borlaug Dialogues last week in Des Moines, launching new initiatives to address conservation, hunger and poverty issues in Africa.
For one, the Howard G. Buffett Foundation has formed a partnership with John Deere and DuPont Pioneer to promote conservation agriculture adoption and support smallholders and sustainable farming in Africa. The effort will be piloted in Ghana and include a conservation-based, mechanized product suite developed by John Deere; a system of cover crops and improved inputs from DuPont Pioneer; and support for adoption and training on conservation-based practices by the Howard G. Buffett Foundation.
Additionally, Blair announced a collaboration between his Africa Governance Initiative (AGI), the Howard G. Buffett Foundation, and the World Food Prize Foundation to launch the 40 Chances Fellows program.
40 Chances: Finding Hope in a Hungry World a new book written by Howard G. Buffett, inspired the program, which will encourage innovation in developing market‐based approaches that address food insecurity. Fellowship funds will support social entrepreneurs who are addressing issues of hunger, conflict, or poverty in Liberia, Malawi, Rwanda, and Sierra Leone, four of the countries where AGI has strong government partnerships.
Blair and Buffett participated in a panel and then met the press at the World Food Prize. You can listen to or download both audio files below.
[wpaudio url="http://zimmcomm.biz/world-food/wfp-13-40chances-panel.mp3″ text="40 Chances Panel discussion"] [wpaudio url="http://zimmcomm.biz/world-food/wfp-13-buffett-blair-press.mp3″ text="Blair and Buffett Press Conference"]

2013 World Food Prize photos