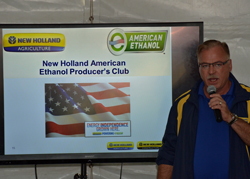 Farmers who provide corn for ethanol plants can get special discounts on New Holland equipment and help the ethanol industry at the same time.
New Holland district sales manager Bob Kacher says their American Ethanol Producers Club is an initiative they developed two years ago with Growth Energy to help both growers and the ethanol industry. "It offers the opportunity to reinvest back into the ethanol industry through the purchase of New Holland products," he explained during an event last week at the Absolute Energy biorefinery near Lyle, Minnesota. "The producers are part of the club by their contracts and the amount of grain they sell to the ethanol producing plants and that membership allows them discounts off New Holland equipment that they purchase through their local dealer, and in turn New Holland reinvests back into the support and promotion of ethanol."
Producers can qualify for club membership if they have a current contract with an ethanol plant for at least 10,000 bushels, supply at least 50,000 bushels per year or purchase at least 280 tons of distillers grain, or be a board member or major investor in an ethanol plant. Bob suggests producers contact their local ethanol plant or Growth Energy for more information.
Find out more in this interview: [wpaudio url="http://zimmcomm.biz/new-holland/newholland-kacher.mp3″ text="Interview with Bob Kacher, New Holland"]
New Holland American Ethanol Producers Club photo album