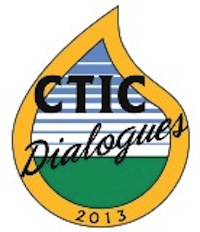 The Conservation Technology Information Center (CTIC) Dialogues are right around the corner. The panel discussion will focus on the economic and ecological benefits of agricultural conservation systems. Conservation tools, measurements for economic and ecological benefits, long-term economic returns and their effects on producers' decision-making processes and conservation trends that will affect agriculture in the next five years are all topics the panel will cover.
Agricultural conservation systems could hold solutions for several of the issues we are facing in agriculture, such as a growing population and the loss of land for agriculture. Conservation agriculture enables producers to do more with less while protecting water and air quality, improving the soil, providing habitat for wildlife, contributing to a healthy community and producing high-yielding crops for our nation's feed, fiber and fuel.
The event will take place October 21 from 3:30-5:30pm in Washington, D.C. at the Rayburn House Office Building, room 2168.
Panelists will include:
– Suzy Friedman – Director of Agricultural Sustainability, Environmental Defense Fund
– Josh Maxwell – Senior Professional Staff, House Committee on Agriculture
– Ray McCormick – Producer, Indiana
– Jean Payne – President, Illinois Fertilizer and Chemical Association
– Wallace Tyner – Professor of Agricultural Economics, Purdue University
– Sara Wyant, Moderator & President, Agri-Pulse Communications, Inc.
For more information visit www.ctic.org/CTICDialogues or call 756-494-9555.