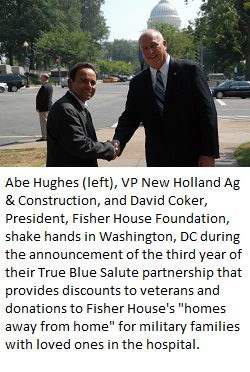 In grateful recognition of the courage, service and sacrifices which members of our Armed Forces, Police Officers, Firefighters and their families make every day, New Holland is proud to kickoff of this year's True Blue Salute program on the anniversary of the 9/11 terrorist attacks.
"This is our way of saying 'thank you' to all who serve," says Abe Hughes, Vice President, New Holland North America. "New Holland is honored to be able to demonstrate our appreciation and support of our military and their families and contribute to the outstanding work being done on behalf of our military through the Fisher House Foundation."
From now until Veteran's Day, November 11, 2013, New Holland is offering a $911 "Thank You" coupon off selected models of New Holland Agriculture and Light Construction equipment. This is extended to members of our Armed Forces, Police Officers and Firefighters, as well as their families. In addition to the "Thank You" for military and first responders, New Holland will donate $250 to the Fisher House Foundation for each qualifying model sold under this program.
You can find out more at TrueBlueSalute.com and www.fisherhouse.org, as well as your local New Holland dealer.
Listen to an interview with Abe from the kickoff in Washington DC here: [wpaudio url="http://zimmcomm.biz/new-holland/newhollandtrueblue13-abe-hughes.mp3″ text="Interview with Abe Hughes, New Holland"]
And you can check out some behind the scenes pictures from New Holland's and Fisher House's video about the True Blue Salute on RFD TV.