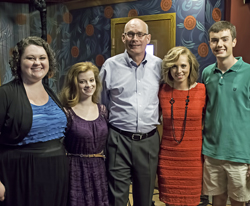 Four agricultural students will win scholarship prizes in this year's FMC "Stand & Be Heard Anthem Singing Contest." Alexandra Carpenter, Noelle Goodson, Hayley Hall and Alexander Raun (pictured here with FMC's Paul Redhage) were recently selected by a panel of judges and then traveled to Nashville to take part in a professional Music City recording experience.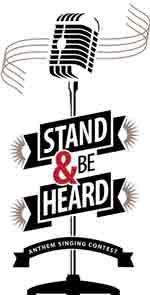 "The quality of this year's finalists illustrates the great future for agriculture. From across the nation, we had a number of excellent students participate and the finalists exemplify the best of the best," said Tim Thompson, FMC Agricultural Solutions North America product manager.
The finalists' updated performances are posted on www.FMCcrop.com/contest and the final round of online voting will run through September 15 to determine a grand prize winner. The finalist who receives the most votes will win a $10,000 scholarship. The three remaining finalists will receive $5,000 scholarships. Winners will be announced on Sept. 18.
FMC Corporation continues to invest in farming's future by bringing innovative crop protection products to the industry, including two new herbicides, Anthem® and Anthem® ATZ. For more information on FMC crop protection products, please visit www.FMCcrop.com.