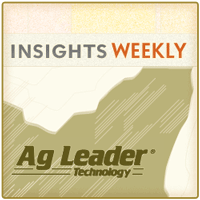 That's right – the Farm Progress Show is just four short days away – are you ready? Amidst the hustle and bustle of trying to fit it all in a day or two, be sure to catch up with Ag Leader Technology at Booth 518.
Mike Olson, North America Sales Manager, says a team of about 20 Ag Leader experts (including tech support specialists) are heading out to the show on Sunday and will be on hand during the week to answer any questions growers might have about existing equipment or adding to their operation for the upcoming harvest season.
[wpaudio url="http://precision.agwired.com/wp-content/uploads/sites/3/2013/08/MikeOlsonInterview.mp3″ text="Listen to Olson explain"]
And of course, farm shows are a great way to learn about new product offerings. Olson says Ag Leader will be making some exciting product launch announcements from the show, but wouldn't give us the specifics. Guess you'll just have to stop by the booth and find out for yourself!
See you at the show.
Become a fan of Ag Leader on Facebook today, and get the latest precision ag videos on the YouTube channel. For more information about Ag Leader products and services, or to visit the blog site, go to www.agleader.com.