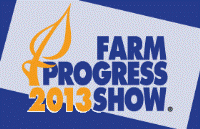 A cool and wet spring that delayed planting, followed by a cool summer, has forced the Farm Progress Show to cancel the field demonstrations normally held during the show. But the 60th annual Farm Progress Show will go on as planned August 27-29 in Decatur, Illinois with still plenty to see and do for the record-breaking crowds anticipated.
The exhibit field is open to visitors 8 a.m. to 5 p.m. Tuesday and Wednesday; 8 a.m. to 4 p.m. Thursday. Admission is $15 for adults, $8 for ages 13-17, and free for ages 12 and under. Discounted advance adult admission tickets are available now on the show's website. For a full schedule of events and more detailed information, visit www.FarmProgressShow.com. The full show program is also posted on the show website under the Visitor Resources tab.
There's a handy Farm Progress Show app for iPhones and Android mobile phones, available in the devices' respective app markets.