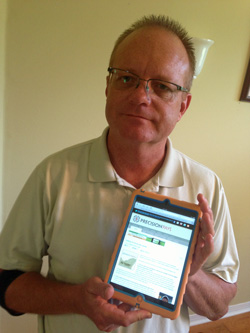 There's a very good chance you're using an iPad on your farm today. If so, are you concerned about keeping it protected? Here's an option to consider. The rugged Drop Tech Series case from Gumdrop Cases. Here's me with one I just got for my iPad mini in orange and blue (Go Gators!). These cases provide maximum protection that includes screen and port protection, shock absorption and drop protection.
So how about a real world ag application. You can look to Precision Planting customers who use iPad to access their FieldView App, which allows them to view real-time planter data as they go through the field and sync to the cloud so other farmers can access the data and monitor the operation. The FieldView app brings the farmer's field to life on high-resolution maps. Farmers can view spacing and singulation as well as ground contact and row unit weight, making analysis much easier. The Gumdrop cases provided Precision Planting with a case that can withstand weather conditions and protect against any possible damage in the field.

"With the ruggedness of the cases, our farmers are able to take their iPads with them from the tractor and use the device as a crop-scouting tool throughout the season and then put it in the combine to monitor harvest operations in the fall," said Sean Arians, Product Marketing Manager of Precision Planting.
You can find Gumdrop Cases here. I'm liking mine and will be taking it on the road with me this week to the 2013 Agvocacy 2.0 Conference in Charlotte, NC.