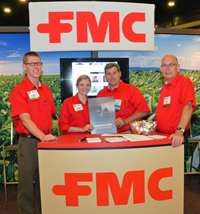 You could call it "Rural America's Got Talent." After six months, 185 entries and a round of online voting and judging, FMC Corporation has announced the final four contestants in the Anthem "Stand and be Heard" Singing Contest.
"This is the second year we've had the Stand and be Heard contest," said FMC's Tim Thompson, pictured here second from the right with his colleagues at the Ag Media Summit last week. "It's for students in FFA, NAMA and 4H – ag students – who sing the national anthem on video and submit it and (are judged) for the opportunity to win up to $10,000 in scholarships."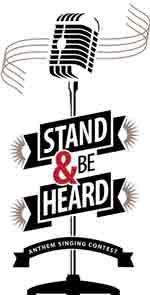 Tim says over 30 states were represented in the entries and they have now been judged down to the final four – Alexander Raun, 18, from Minden, Nebraska; Alexandra Carpenter, 19, from Crawfordsville, Indiana; Hayley Hall, 17, from Bladenboro, North Carolina; and Noelle Goodson, 18, Fayette, Ohio.
Next the four will be on their way to Nashville for a professional recording session and new videos will be posted to the site on August 26 so you can cast your vote for the winner. You really have to go and listen to these kids sing acapella to hear their pure sound. Everyone knows what a difficult song our beautiful national anthem is to sing, so you know these kids have real talent!
The contest was started last year to promote FMC's Anthem herbicide for corn and Tim says they expect to have new registrations coming soon for cereals, potatoes, peanuts, cotton and soybeans. "A great grass products, longest residual product on the market today, along with great broadleaf control for things like palmer amaranth," he added.
Listen to my interview with Tim here: [wpaudio url="http://zimmcomm.biz/ams/ams13-fmc-tim-1.mp3″ text="Interview with Tim Thompson, FMC"]