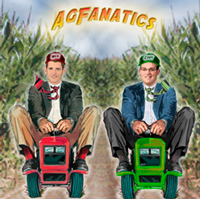 The AgriVisor AgFanatics podcast has logged 40 episodes since its debut in December 2012, and quite a few since we last talked to them in March, so we decided it was time to check in for an update on how these two wild and crazy ag guys are doing.
"It's going great, we're continuing to gain listeners and we're continuing to talk," says one-half of the AgFanatics duo, Cory Winstead, account manager with AgriVisor. They did decide to cut back from two episodes a week to one to avoid having some of the same conversations too often, but he and partner Nick Klump are still having fun with it.
"We've gotten some of our best feedback when we've spent the first five minutes talking about baseball and our lives and our kids," Cory said. They have spent a lot of time this year focusing on the weather market for grain, the farm bill and other things that interest farmers, such as crop insurance.
The AgFanatics will be podcasting live from the Farm Progress show this year in Decatur, so be sure to stop by and meet them in person at the GROWMARK tent. You can find the AgFanatics podcast page from the link on the AgriVisor homepage.
Get an update on the AgFanatics in this interview with Cory. [wpaudio url="http://zimmcomm.biz/growmark/agfanatics-cory-2.mp3″ text="Interview with AgFanatic Cory Winstead"]