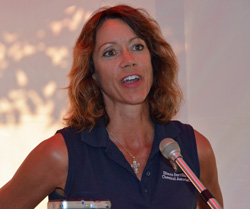 "The wealth of Illinois is in her soil, and her strength lies in its intelligent development." That quote was from one of the first presidents of the University of Illinois almost 200 years, but attendees of the recent Conservation Technology Information Center tour in Livingston County, Ill., heard it reiterated by Jean Payne, President of the Illinois Fertilizer and Chemical Association, who spoke at one of the tour dinners.
She says, while many recognize the need for good investment in that great natural resource, the recent economic troubles of Illinois has ended up cutting any state funding to nurture that investment. Rather than relying on the government, members of Jean's group decided they'd take their own fate in their own hands and not be dragged down by what went on with the politicians.
"Are we going to let this tremendous [ag] industry get sucked down the vacuum that is becoming our state government? I said 'No!'"
They went to other ag groups, including the Farm Bureau, corn and soybean growers, pork producers and Syngenta Crop Protection, and they were able to raise support for research. Eventually, they talked the Illinois legislature into letting them put together their own fertilizer checkoff that the groups, not the state, would manage. Now, they're able to collect $2.5 million each year that they can use to be good stewards of the land.
"Despite the fact that we have a vacuum in our state government, I feel phenomenal about where our Illinois agriculture stands with our nutrient stewardship efforts. And it's only going to get better," Jean said.
She said they'll need to keep working to educate people about the need for the checkoff and the dividends it pays on that investment.
"We have had to fight for this, [but] everything in life worth having is worth fighting for."
Listen to Jean's remarks to the CTIC group here: [wpaudio url="http://zimmcomm.biz/ctic/ctic-13-jean-payne.mp3″ text="Jean Payne, President of the Illinois Fertilizer and Chemical Association"]