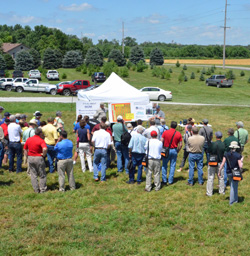 Monsanto was one of the sponsors on the recent Conservation Technology Information Center tour in Livingston County, Ill., and Chuck caught up with the company's Emilio Oyarzabal, who said the CTIC's work is very important to Monsanto and its customers.
"We need agriculture more than ever," Emilio said, but he added that farmers are being accused of doing environmental damage. "If we observe the problem and see how we can fix this, conservation is one way to make your farm sustainable and deflect that criticism."
Emilio said Monsanto is right on the forefront of that environmental charge, working on how to double crop yields and decrease the inputs by a third… not an easy task.
"Biotechnology is a tool, but not the only tool. We need to make a paradigm shift in what we do in agriculture," suggesting new crop rotations and different ways of using fertilizers, just to name a few ideas. "We need to think in different ways."
He went on to say that precision farming tools are helping farmers adopt better practices, while companies are providing the better tools farmers need.
Listen to Chuck's interview with Emilio here: [wpaudio url="http://zimmcomm.biz/ctic/ctic-13-monsanto-emilio-oyarzabal.mp3″ text="Emilio Oyarzabal, Monsanto"]