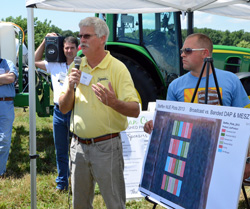 Contrary to what seems to be reported many times, farmers don't want to see their field nutrients washed on down the river to contribute to some "dead zone" in the Gulf of Mexico.
"Farmers don't want nitrogen to leave their fields. They want it in their corn crop," explained Tim Smith during the recent Conservation Technology Information Center tour in Livingston County, Ill. Tim is a managing agronomist for Cropsmith and a Certified Crop Adviser. He also used to work for the University of Illinois developing ways to improve nitrogen use efficiency in crop production and helped develop the Illinois Soil Nitrogen Test (ISNT) to improve nitrogen recommendations for corn. During the tour, he presented information about their demonstration plots in the Indian Creek watershed. "Anything we can do to demonstrate and show them how they can be more efficient, they're very interested in, and it's also good for the environment. So I think it can be a real win-win."
Tim said this has been a real good group to work with, and he's impressed by the large number of farmers in that area participating and the questions he's heard on the CTIC tour.
You can listen to Chuck's interview with Tim here: [wpaudio url="http://zimmcomm.biz/ctic/ctic-13-tim-smith.mp3″ text="Interview with Tim Smith, Cropsmith"]