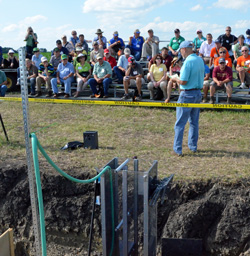 On the recent Conservation Technology Information Center tour in Livingston County, Ill., we've talked a lot about nutrients draining into the local watershed and how to prevent that. Part of that formula includes controlling any water drainage from the land, and Phil Algreen with Agri Drain, a company that specializes in drainage management, talked to the crowd about some of his company's products.
"Well, the main thing we use to [manage drainage] is called a water level control structure, a device you put on a tile main outlet [that allows] you to control [at one spot] the water table in that area affected by that tile," adding that it is seasonally adjustable — less drainage in the winter and summer and maybe more in the spring when you're trying to plant a crop.
But Phil talked bigger picture with the folks on the CTIC tour, explaining how their systems are not necessarily good for every situation and how they are mostly built for the flat topography of an area like Livingston County, Ill.
"But there are other practices besides drainage management we talked about: saturated buffers, wood-chip bioreactors… different things you can do, depending on the area where you live. Kind of like tools in a tool box. You've got to pick the right one."
You can listen to Chuck's interview with Phil here: [wpaudio url="http://zimmcomm.biz/ctic/ctic-13-phil-algreen.mp3″ text="Interview with Phil Algreen with Agri Drain"]