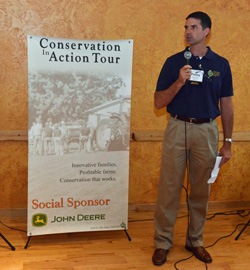 The latest Conservation Technology Information Center tour in Livingston County, Ill., has been a good way for the farmers of that region to showcase what they are doing to be good stewards of the environment, while making sure they maintain a good bottom line. Pauley Bradley with John Deere and a member of the CTIC is shown welcoming everyone to the opening reception sponsored by John Deere. He said this is the third year CTIC has been involved in the Indian Creek watershed project that shows how to balance good stewardship with good economics.
"The goal was to get at least half of the producers in the watershed as part of the initiative to do everything they could on the land to improve water quality in the area. We've got more than 40 percent participation right now, which is tremendous, [with] a lot of collaboration and a lot of folks pulling in the same direction," Pauley said, adding that it was heartening to see capacity crowds on the tour, with many of those from the city able to see for themselves the good practices going on. "I talked to Dr. Norm Widman who's the national agronomist from NRCS last night, and he said, 'You know, we just have to get out of town, away from the concrete buildings and get grounded every once in a while.' "
Pauley went on to say he was quite pleased to see how much information they could pack into the days of this tour.
You can listen to Chuck's interview with Pauley here: [wpaudio url="http://zimmcomm.biz/ctic/ctic-13-pauley-bradley.mp3″ text="Interview with Pauley Bradley, John Deere and a member of CTIC"]