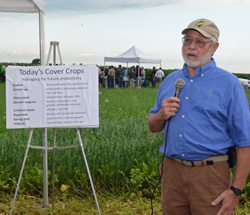 Getting the most out of what you've got is a goal that most producers have, and during last week's Conservation Technology Information Center tour in Livingston County, Ill., the value of using cover crops to boost a bottom line was shown. Mike Plumer is a retired University of Illinois Extension educator in agriculture and natural resources and currently a consultant for conservation agriculture, in particular, cover crops. He made a presentation to the group about the value cover crops can add.
"We're seeing a lot of benefits," Mike said. "One, we're capturing nitrogen, holding that nitrogen so we don't lose it, we're increasing root infiltration so we get more water movement in the soil, we're adding more biological activity, we're adding organic matter to the soil, and as a result, we're typically seeing yield increases."
Mike echoed the sentiments of other speakers who showed that cover crops can help save yields, especially during drought years, and pointed to one farmer who told him his yields were 50 bushels an acre better where he had a cover crop.
During one stop on the CTIC tour, Mike discussed several different options in cover crops and how to use each of them.
You can listen to Chuck's interview with Mike here: [wpaudio url="http://zimmcomm.biz/ctic/ctic-13-mike-plumer.mp3″ text="Interview with Mike Plumer, cover crop specialist"]