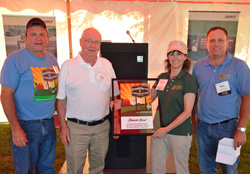 Good crowds from around the area and many parts of the country turned out for last week's Conservation Technology Information Center tour in Livingston County, Ill., and that was appreciated by the local farmers.
"Today we had a lot of people here. When you go to all that work, and you put these plots in, and you try to figure out what's right and what's wrong, to see this many people come in on our farm and see what we've done, it kind of gives you a real good feeling about what you do," said Mike Trainor the host at the Trainor family farm, one of the stops on the CTIC tour, and a certified Crop Adviser and a registered USDA technical service provider. He's in the picture with his dad, Jack Trainor, getting an appreciation award for letting CTIC come to the family farm.
Mike said with pricey inputs, it makes economical and ecological sense to make sure they don't runoff.
"As expensive as the inputs are, we need to figure out how to put 'em there, how to keep 'em there, and how to best utilize 'em."
Mike said it's also rewarding to be recognized by the federal regulators at the EPA that farmers like him are trying to do what's best for the environment. He said even without the feds, it's important for them to be able to pass this operation down to the next generation of farmers in the family.
"We're all in it together, and we want it to be profitable for them down the road and good for the environment."
You can listen to Chuck's interview with Mike here: [wpaudio url="http://zimmcomm.biz/ctic/ctic-13-mike-trainor.mp3″ text="Interview with Mike Trainor, Trainor Farms"]