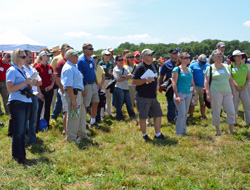 Getting caught up in government regulations and red tape is something any farmer wants to avoid, and attendees of the recent Conservation Technology Information Center tour in Livingston County, Ill., heard how they can avoid more of that with voluntary programs, such as the one on display on the tour. Marcia Willhite, the Chief of the Bureau of Water with the Illinois Environmental Protection Agency said they're encouraged by the success of the Indian Creek project and how voluntary efforts by farmers are paying dividends for everyone.
"Our culture is such on the agricultural side that a voluntary, incentive-based approach is what we have to work with," she said. "I think it might be somewhat of a motivator to avoid regulations, but my sense is that the speakers and farmers in this watershed are focusing on is they see the benefit for their own productivity, they see the benefit for water quality for their own community."
Marcia went on to say that this is a good story that needs to be told about how farmers and government are working together for the betterment of all.
"We've just been real excited about the success of finding out what happens when a large number of producers within a watershed decide to commit to conservation practices. There has been leadership among producers, taking charge of what they want to do to address water quality issues."
You can listen to Chuck's interview with Hans here: [wpaudio url="http://zimmcomm.biz/ctic/ctic-13-marcia-willhite.mp3″ text="Interview with Marcia Willhite, Illinois Environmental Protection Agency"]