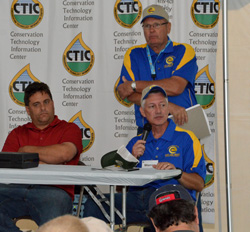 One of the best parts about the Conservation Technology Information Center tour is the conversations that come up, either through formal panels or just informal talks. On the more formal side, local Livingston County, Ill., farmer Marcus Maier (pictured seated, holding the microphone) sat on a panel during the tour that addressed soil health and the issue of nitrate runoff into local watersheds.
"We're trying to get farmers to implement conservations systems," he explained, not only just cover crops or filter strips or field buffers, but a whole system, including nutrient management systems. Marcus said the biggest challenge is nitrate runoff into the Indian Creek watershed. "Two towns are fed by Indian Creek: Fairbury with a population of about 4,000 and Pontiac has about 12,000. So that's our goal to help reduce [those nitrate levels in the water supplies]."
On the more informal side, lots of farmers are talking about how they've had much better rain than last year, which is good for the crops but kept many out of the field for a long time, putting them a bit behind. Overall, though, Marcus is pretty optimistic about how the crops in that area will turn out this year.
You can listen to Chuck's interview with Marcus here: [wpaudio url="http://zimmcomm.biz/ctic/ctic-13-marcus-maier.mp3″ text="Interview with Marcus Maier, CTIC panelist, local farmer"]