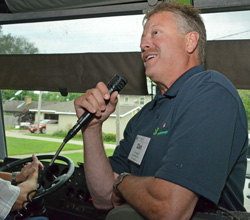 The Conservation Technology Information Center tour just completed with a theme of "Community 4 Conservation" this year. Dan Maggart with GROWMARK (pictured to the right, talking to bus load on the tour about what GROWMARK offers in way of agronomic services) explained why his company sees itself as such a good fit as a sponsor for the tour and its theme.
"GROWMARK has a retail arm, where we go directly to the farm gate and make nutrient recommendations to growers, so we're privileged to be able to use all sorts of tools as far as nutrients, fertilizers, so we just want to maintain that privilege that we've had for years and be good stewards of the land, but also the water bodies and the folks downstream," Dan said.
He said the structure of the CTIC tour in Livingston County, Ill., is a good template that GROWMARK can apply in conservation practices across its core area across the Midwest, but also to their customers that reach to the East Coast and into Canada, as well as nationwide in the U.S. Dan added they make sure their sales force that come to those farms and make recommendations for best business and conservation practices are thoroughly trained to make the best recommendations possible.
"This group has historically done a tremendous job doing that. In fact, there's 20 years of what we would call on-site training, we have special schools for young crop specialists, and regular updates throughout the year to re-educate and get that message across to our distribution and our retail outlets," Dan said.
You can listen to Chuck's interview with Dan here: [wpaudio url="http://zimmcomm.biz/ctic/ctic-13-dan-maggart.mp3″ text="Interview with Dan Maggart, GROWMARK"]