Doing more with less is the theme when it comes to agriculture in general and commercial grain drying is no different.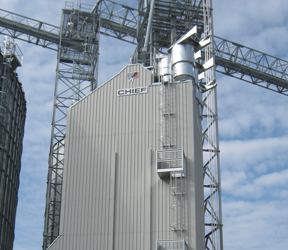 Almost a year ago, GROWMARK's Total Grain Marketing (TGM) location at Neoga, Illinois completed installation of a groundbreaking mixed airflow grain dryer. with the help of Chief Industries, United Kingdom. Now, GROWMARK Commercial Grain Systems Project Manager Paul Brooks says they are working on constructing another one in Kearney, Nebraska where it will be used for drying organic grains such as blue corn tortilla chips for food consumption.
"The mixed airflow dryer has a little bit different design in how the air and heat passes through the grain columns," Paul explains, noting that food grade quality or specialty grain drying needs to be at a lower temperature and shorter time period to avoid damaging the internal parts of the grain.
"This particular drying was originally designed and manufactured in Europe," he said. "It was designed to be more energy efficient and take into consideration emissions for sound and dust." That's among the reasons why GROWMARK believes there is a big future for these types of dryers. "Commercial grain elevators are going to be more regulated on emissions," said Paul. Additionally, the cost of fuel is increasing and it will cost more and more money to dry the same amount of corn. "We're going to have to look at things that are more efficient and cost less."
Find out more in my interview with Paul: [wpaudio url="http://zimmcomm.biz/growmark/growmark-brooks-dryer.mp3″ text="GROWMARK's Paul Brooks"]