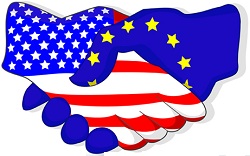 The U.S. and the European Union has a nearly $4 trillion trade relationship, and food and agriculture make up a good portion of that. That's why Farm Foundation is sponsoring a forum to discuss the U.S.-EU Transatlantic Trade and Investment Partnership (TTIP) on Wednesday, July 17 at the National Press Club, in Washington, D.C.
In early July, the United States and the European Union will open TTIP negotiations toward the goal of increasing U.S.-EU trade and investments. Negotiators will examine tariffs, tariff-rate quotas and non-tariff barriers across multiple sectors. At present, the United States and the EU have about $2.7 billion of trade daily, and nearly $4 trillion is invested each other's economies. As negotiations get underway, many of the areas of sharp differences will come into focus. For agriculture, both sides have called for an array of market access barriers to be addressed.
Moderating the Forum discussions will be J.B. Penn of Deere & Company, a Trustee of Farm Foundation, a member of the Board of IPC, and a former USDA Under Secretary for Farm and Foreign Agricultural Services. Presenting perspectives on TIPP will be:
· Sue Taylor, Vice President of Dairy Policy and Procurement for Leprino Foods Company will discuss dairy industry priorities.
· Matt O'Mara, Director of International Affairs, Biotechnology Industry Organization, will explain his industry's vision for the future of trans-Atlantic trade.
· William Kerr of the University of Saskatchewan, will outline the different approaches of the United States and European Union to geographical indications.
· Craig Thorn of DTB Associates, LLP will address U.S. industry views of geographical indications.
· David Biltchik, consultant to the Consorzio del Prosciutto di Parma, will discuss the European objectives for geographical indications.
The forum is free to attend, or you can watch it through a webcast. Register by emailing info@farmfoundation.org or for the webcast, register at: www.visualwebcaster.com/July2013FarmFoundationForum.