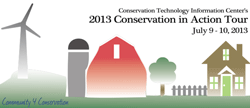 The 2013 Conservation in Action Tour will be held July 9-10 in Livingston, Illinois and for those who are interested there are still a few seats left. A pre-tour seminar on July 9 has also been added. Learn more about the tour in the video below.

This tour will feature three stops focusing on soil health, nutrient management and drainage water management. Farmers, agribusiness personnel, media and others involved in agriculture will be attending to hear from speakers with experience in several aspects of conservation, such as building soil health, efficiently managing nutrients and controlling the water that drains from fields. Featured speakers include Jason Weller, chief of the USDA Natural Resources Conservation Service, Denise Keehner of the U.S. Environmental Protection Agency and Jean Payne, president of the Illinois Fertilizer and Chemical Association.
Along with the tour, Solutions from the Land and CTIC will be presenting a seminar on July 9 discussing the Indian Creek Watershed Project. This event will be held at the Marriott before the tour's evening social. The program for the pre-tour seminar can be accessed here (.doc). To sign up for this seminar, click here.